Phone Photography Masterclass
Processing your phone images into works of art
Transform photos taken on a phone into wall-worthy art.
I want to help you...
Transform your phone images using Lightroom's amazing editing tools.
Use cropping, geometry, and perspective tools to enhance your photo's story.
Lead the viewers eye's effectively using advanced masking techniques.
From Michael.
Cell phone photography used to be quite limited, but now, with new technology, most of these phone sensors allow you to create compelling high-quality photos. In this course, I'll show you how to leverage your phone's RAW photos and Lightroom's powerful editing tools to turn your images into works of art that you can be proud of.
GET STARTED
In this course, you'll learn:
How to import your phone photos and automatically sync them to Lightroom CC.
How to adjust image highlighting, color mixing, and gradients to enhance your photo's visual appeal.
How to use masking and vignettes to create focus and improve the composition of your images.
How subtle adjustments to an image's luminosity, exposure, and color tones can make a big difference in your end product.
How to properly crop your images and use geometric tools to fix common perspective issues.
How to save and export your images out of Lightroom so you can proudly share them online.
Transform images from your phone into works of art
Meet you Instructor
Award-winning landscape photographer and passionate educator.
Phone Photography Masterclass
Learn to transform the photos on your phone into stunning share-worthy images.
With a few simple steps, you can create depth and focus, adjust lighting and tones, and create a more dramatic scene in your photos.
From correcting perspective lines, to masking and adjusting portions of your images, I'll walk you through every detail. Join me today, to turn those phone photos into something worth sharing.
Hear what other students have to say…
"I am obsessed with editing my photos now! Michael makes it so easy to understand and apply. This course made me feel like I could become a photographer and I honestly want to take this new skill to the next level."
- Mick Wilkins
"I was always frustrated about my pictures, they never turned out the way I wanted them to. I had no idea the secret was to edit them after I take them! Total game changer."
- Patty Carlson
"Being a Lightroom newbie, Michael explained things in a way that even I could understand. His course showed me how easy is it so make small, but mighty, adjustments to photos I take with my phone. Thanks Michael!!"
- Greg Quinn
What's Included
Phone Photography Masterclass
Camera Settings
Learn how a phone takes a picture and how you can use the RAW format to get amazing results.
Import & Sync
Learn how to import the pictures from your phone and sync them to Lightroom CC.
Create Mood
Learn how to adjust highlights, tones, and mix colors to enhance the mood of your images.
Masking
Learn how to use linear and radial gradients so you can adjust small portions of your images to make a big impact.
Vignettes
How to use vignettes to create focus and depth in any image, no special affects needed.
Perspective
I'll show you how to use cropping and geometry tools to straighten vertical and horizontal lines in your images.
Luminosity
Instantly enhance your image by using masks to make subtle adjustments to luminosity, exposure, and contrast.
Wall Worthy
Learn how a few minutes of retouching can transform your phone images into wall worthy art.
Export & Share
Learn how to export your retouched photos so you can share them with family and friends.
Limited Time Offer
Hurry! This special offer is ending soon...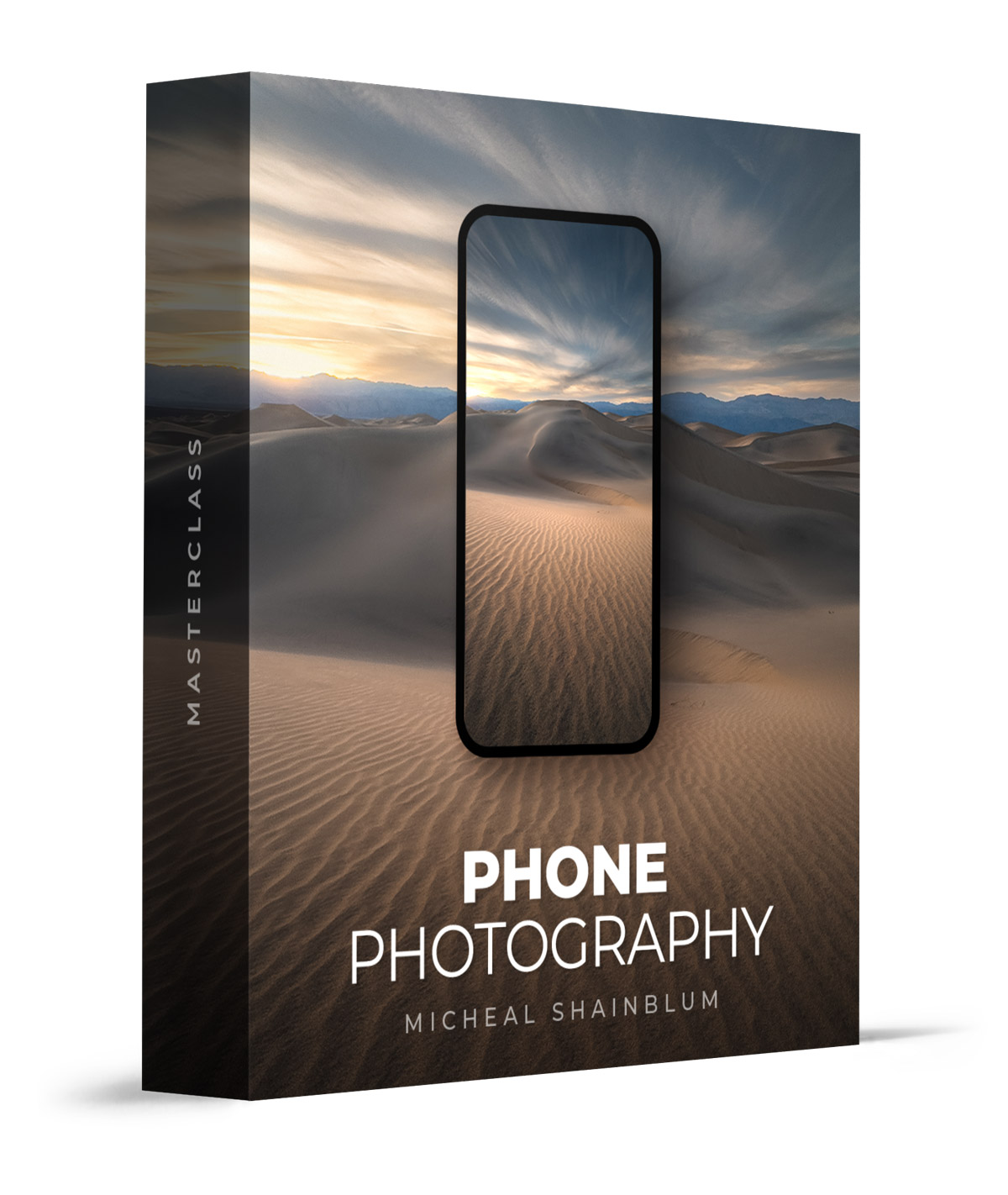 Phone Photography Masterclass
$87$47
Unlock the full potential of your phone photography with high-end retouching at your fingertips.
BUY NOW